News


Federer at 2010 USEF Markel Young Horse National Championships places 7th in the 4 Year Old Class
Federer (Fidertanz/Rubinstein German Oldenburg) owned by Helen Markoglu placed 7th in the USEF Markel Young Horse National Championships for 4 Year Olds, with a score of 7.56.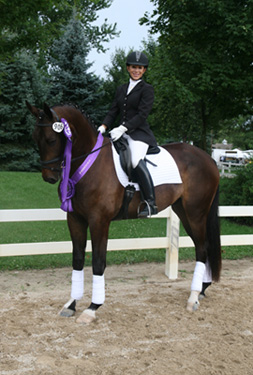 Federer, was purchased in late May and needed two top scores out of two more qualifying shows for the Nationals. For his new trainers, father/daughter team Ron and Lisa Postleb, it was a wonderful achievement to get the remaining qualifying scores in only 5 weeks time with only two shows!

The National Championships were held in Wayne Illinois, at Lamplight Equestrian center on July 25th. The competition was tough and we are proud that Federer went into the show w/ a National ranking of 9th and improved his final placement to 7th when all the horses had the opportunity to compete under the same 'roof' with the same judges.

Federer was ridden by Lisa Postleb and coached by Ron Postleb. It was a very well done venue and there was a good spirit of camaraderie amongst competitors. New lasting friendships were made by all on the Crown Dressage team and not only did we have a great performance, but a great time was had by all.

Federer is now having a well deserved break from shows but we hope to be back next year for the FEI 5 year olds class. He remains in training w/ Ron at Crown Dressage and ridden by his amateur owner on weekends.

To view the championship ride please click on the link below

http://www.youtube.com/watch?v=W314E_N8fsY

Ron Postleb contributes at 2008 International Dressage Symposium



Held at Maplewood Warmbloods in Middletown, NY, the symposium featured Klaus Balkenhol, Dr. Gerd Heuschmann, and Colonel Christian Carde. The theme of the symposium was Classical versus Competitive Dressage. Ron served as a general facilitator, moderated the podium discussion, and translated for Klaus Balkenhol.


| | | |
| --- | --- | --- |
| | | |
| Ron Postleb and Klaus Balkenhol | | Signing autographs, left to right. Colonel Christian Carde, Klaus Balkenhol, Ron Postleb, Jen Vanover, Lisa Postleb, Tommy Vanover, Dr. Gerd Heuschmann (foreground) |
| | | |
| Dr. Gerd Heuschmann discussed equine anatomy and why it is so important that the horse be ridden forward and stretching to develop the correct muscular structure and keep the horse healthy and out of the veterinary clinic. | | Dr. Heuschmann painted the horse's topline muscles and skeleton, and Elizabeth Niemi demonstrated different positions including forward and stretching and then in collection so the audience could see and understand when those muscles functioned in a good way to help the horse support the rider and move freely and with his natural expression. |
| | | |
| Dinner. Lisa Postleb and Colonel Christian Carde | | Colonel Christian Carde, Dr. Gerd Heuschmann, Klaus Balkenhol, Ron Postleb at dinner. |
| | | |
| Klaus Balkenhol and Jen Vanover. Klaus, Colonel Carde, and Dr. Heuschmann will continue to present their message about appropriate and correct classical training of the dressage horse around the world. A DVD will be available from the symposium. | | Colonel Carde with one of the demonstration teams. |
| | | |





Ron conducts demonstration session at 2007 Minnesota Horse Exposition



Ron explained the principles of dressage and the German Training Scale at the Minnesota Horse Expo April 27-29 2007. He joined many outstanding equestrian professionals at this large annual event. Sessions with demonstration riders included:
The basic training of the dressage horse;
Advance training of the dressage horse;
The development of lateral movements in the dressage horse;
The correct seat of the rider and its effectiveness on the aids;
Walk and canter pirouettes;
Work-in-Hand.




Dressage in South Korea



In November, 2005 Ron was invited to South Korea
to help young rider Peter Kim prepare for the
first ever FEI Young Rider's competition in that country.










Lisa Postleb participates in 30-Day Stallion Testing!




Lisa Postleb, Bereiter FN, was invited on December 6th & 7th to be a test rider for the first ever 30 day stallion testing in the US. The testing was for the Rheinland-Pfalz-Saar/Zweibruecken stud book in the United States hosted by Kasson Ridge Farm, Bethlehem, CT.

She rode 7 stallions (3-6 years old) for 10-15 min each. After the ride she discussed the rideability with the German judges Dr. Nebe and Heinz Merck and gave a score from 0 to 10.

Later on the scores were compared with the results of the previous day and they turned out to be almost identical with a small difference of 0.5 %. The test riders do not have any knowledge about the scores of the previous day.

It was a great experience and a great honor for Lisa; she will return to Germany in the spring to continue her education as a dressage trainer.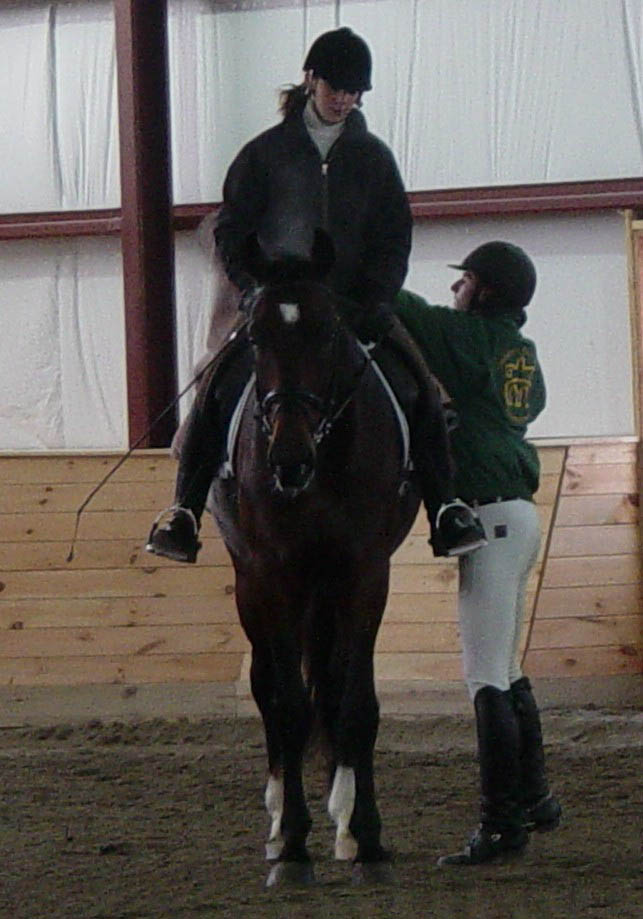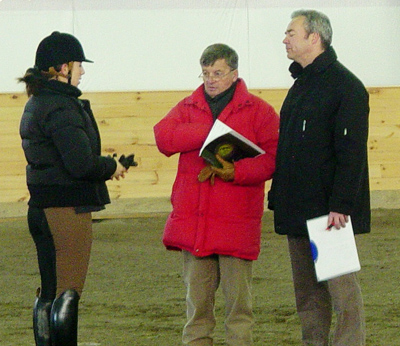 Photos of Lisa
Getting ready to ride Der Graf (by Donnerhall x Pik Koenig)
Discussing rideability with Dr. Nebe and Heinz Merck

Open House on May 7, 2005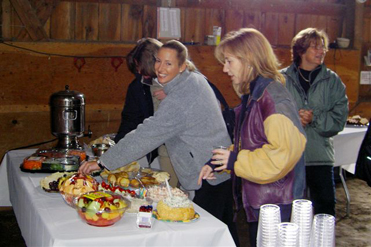 Photo: Buffet table at the open house





Ron Postleb and his assistant demonstrated how the systematic training methods of classical dressage help both horse and rider to work together. Demonstrations included

lateral movements from basic to more advanced

leg-yield
travers and renvers
half-pass

work-in-hand with four horses

a young horse being introduced to this exercise
a more experienced FEI horse doing piaffe in-hand
two horses in-between in their development
All of Ron's customers and friends have enjoyed his and his wife Barbara's family hospitality on many occasions. At this special event , they extended this hospitality to other people who are interested in horses and dressage in particular. This was a fun as well as educational afternoon.

Feedback from Open House

Thank you, your wife, Ivan and entire team at Crown Dressage International for the lovely afternoon I spent with you yesterday. Your horses there are beautifully bred and trained and your staff are a credit to you. Whilst we may share in some earlier training, I have not had the good fortune to be trained further by Klimke, Hinneman and Theoresescu. I must defer to your superior experience! It is truly super to see proper training and instruction being taught to others, especially in the US. Thank you again.

I thought your open house/demonstration was great! I enjoyed all parts of it, and thought it was a wonderful combination of the professional and personal. I learned a lot, ate delicious food and was very happy I came.

Another open house will be held in the future.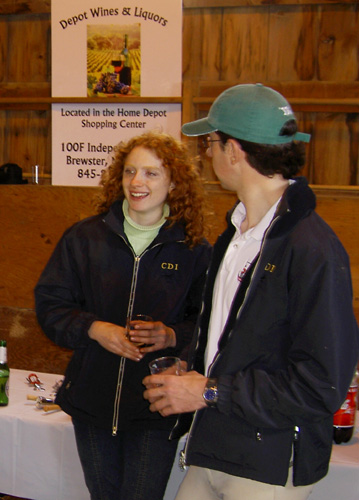 A wonderful buffet was served at the open house




Contact Information

Ronald J. Postleb
Crown Dressage International

Primary Phone Number is Ron's mobile phone 250-942-9222
Fax: (to be updated later)
E-mail Address: RonPostleb@gmail.com
Mailing Address: PO Box 1604, 217 Tal Crescent, Lake Cowichan, BC V0R 2G0

Available for Clinics throughout the United States and Canada

Please call or e-mail or find me on Facebook for more information.




Thank you for visiting CrownDressage.com